This document was provided by an engineer at Autotask.
Exporting Transactions to Comma-delimited File or Excel
Customers have the option of exporting approved and posted transactions to Microsoft Excel (.xls) or comma-delimited (.csv) format. This universal format is compatible with most software applications.
Exports can be done independently of invoicing, because the invoice and export status of each transaction is tracked separately. A transaction that has been exported is still available for invoicing, and vice versa, but once invoiced (or exported), that item is no longer available, to avoid duplication.
To export transactions, click on CONTRACTS > Export Wizard. The export wizard will open.
The first screen allows you to apply filters to your export. The following filters can be applied:
Account Name - to select all accounts with billable transactions, leave the account field blank. To select transactions from one account only, click the account picker icon next to the field and select your account from the account picklist, or use smart type to enter an account name and only pick transactions from this account.
Date Fields - Date ranges on Worked, Invoice and Approve Date fields default to Today minus 30 days but can be edited.
Invoice Status - The export can be filtered by All Items, Invoiced Items, and Items not Invoiced. This feature allows you to export either in tandem with invoicing, or independently thereof.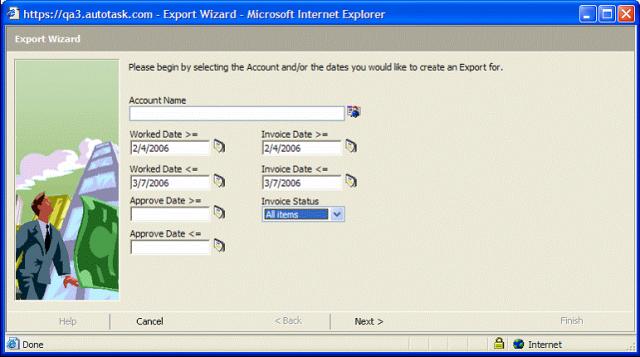 Click Next.
The wizard will run the search and display all transactions that meet your filtering criteria. Right click anywhere on the grid and Check All transaction for export. The following fields will be exported:
InvoiceID
External Invoice Number
AccountID
Account Number
Account Owner
Allocation Code
Department
Allocation Code External Number
Date
Account Name
Ticket Number
Task or Ticket Title
Reported By
Ticket Contact
Project Name
Project Lead
Project Owner
Resource Name
Role Name
Type
GL Code Description
GL Code Name
Invoice Note
Task or Ticket Summary
Hourly Billing Rate
Billable Hours
Extended Price
Approved Date
Allocation Code Name
Department Name
PO Number
Quantity
Our Cost
Expense Type
Installed Product Name
Subscription Name
Subscription Effective Date
Subscription Expiration Date
Milestone Title
Milestone Description
Milestone Amount
Parent Account Name
Allocation Code Non-Billable
External Project Number
Billable
Employee Hourly Rate
Total Hours Billed